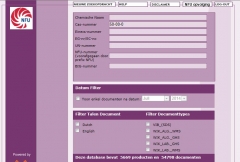 In the context of the NFU, the UMCs have a common database with safety data on many dangerous substances used at the UMCs.
The database currently contains more than 5,600 products and 54,700 documents. New dangerous substances are added to the database every year and the data on dangerous substances is updated every six months.
The database comprises:
validated safety data sheets (MSDSs);
they contain detailed information about a dangerous substance;
validated work instruction cards (WICs);
these are abridged cards containing safety data;
there are two types, a general card and a laboratory card.
The database is easily accessible. Without a login code or password.
You can search by name, CAS number, UN number, etc.
You can narrow down your search by language, date and type of data sheet.
More information can be obtained from your UMC's OHS advisor.