As a manager, you are responsible for ensuring that your staff can work safely with dangerous substances in the department. The manager checklist can be helpful in this respect. The list makes it relatively easy for you to gain insight into the situation in your department.
On this website you will find guidelines for working with dangerous substances from purchase, transport, registration, storage and use to waste management. The intention is of course that everyone who works with dangerous substances works in accordance with the guidelines, both managers and staff. However, every UMC is organised differently. There are departments where the manager also carries out the work, while in other departments these jobs are separated. This means that you have to make the guidelines practicable for your department. Your OHS advisor can help you with this.
What are dangerous substances?
Definitions The Dangerous Substances Advisory Council uses the following definition: Dangerous substances are substances or mixtures of substances which, because of their intrinsic properties or the conditions under which they occur, present a hazard to people or the environment which may cause damage to health or life.
The Working Conditions Decree (Article 4.1) defines dangerous substance as: substances, mixtures or solutions of substances to which workers are or may be exposed at work which, because of the properties of those substances, mixtures or solutions or the conditions under which they occur, may endanger safety or health.
Since 1992, various global organisations have developed the GHS. New regulations on the classification, labelling and packaging of substances and mixtures.
GHS stands for Globally Harmonised System of Classification and Labelling of Chemicals. A worldwide harmonisation of the classification of dangerous substances and mixtures. The development of the system in 2007 was completed to such an extent that it was ready for global implementation. The United Nations published and recommended the latest version in 2007. The member states of the European Union asked the European Commission to convert the global GHS agreements into binding European regulations. This has resulted in the CLP regulation, where CLP stands for Classification, Labelling and Packaging.
The European CLP regulation (1272/2008/EC) has been in force since January 2009. After a transitional period, the CLP Regulation will replace the old Substances Directive 67/548/EC and the Preparations Directive 1999/45/E.
In the CLP regulation the R phrase (Risk) has been replaced by an H phrase (Hazard). The S phrase (Safety) has been replaced by the P phrase (Precautionary/safety). The CLP Regulation embeds the global GHS in European laws and regulates the classification and labelling for the supply and use of chemical substances and mixtures.
The CLP Regulation provides for the following categories of dangerous substances:
Explosive;
Flammable;
Oxidising;
Gases under pressure;
Corrosive;
Toxic;
Harmful;
Long-term health hazard;
Hazardous to the aquatic environment.
The corresponding hazard pictograms can be found in the Safety Information section.
According to the definition, mixtures can also be dangerous substances. The exact calculation rules for the associated composition can be found in the European Preparations Directive 1999/45/EC. This Directive is valid until 1 June 2015. For mixtures purchased before 1 June 2015, an extension has been established until 1 June 2017. A mixture qualifies as a dangerous substance if it contains the following percentages by weight of dangerous substances:
A mixture qualifies as a dangerous substance if it contains the following percentages by weight of dangerous substances:
More than 0.1% of a toxic (cat. 1, 2, 3), carcinogenic or mutagenic substance;
More than 0.3% of a reprotoxic substance;
More than 1.0% of a suspected carcinogenic, mutagenic, toxic (cat. 4), corrosive, irritant or allergenic substance;
More than 3.0% of a suspected reprotoxic substance.
Which strategy do you follow
As working with dangerous substances involves risks, you must take the necessary measures to limit exposure and the risk of an accident as much as possible. When taking measures, always follow the occupational hygiene strategy below in the order specified:
The occupational hygiene strategy
Replace the dangerous substance or prevent exposure to the substance by shielding.
Exhaust the dust-contaminated air through ventilation.
Limit the duration of exposure and the number of staff exposed.
Instruct staff to use personal protective equipment.
This strategy shows that steps 1 to 3 must always take place before you have staff use personal protective equipment.
Proper care for your staff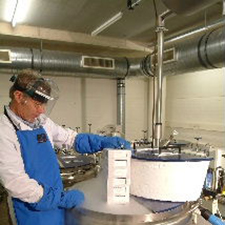 In addition to following the occupational hygiene strategy, you also need to take a number of organisational measures and spare the high-risk groups.
Organisational measures
Working safely with dangerous substances is above all a question of effective organisation:
Appoint qualified and skilled staff;
Assign tasks, e.g. inventory management, registration;
Assign authority, e.g. purchasing;
Ensure that there is sufficient instruction, periodical information and training;
Draw up written work protocols;
Draw up safety instructions;
Set up access arrangements;
Draft a procedure for working alone in the laboratory;
Pursue a separate policy for high-risk groups;
Offer an occupational health examination;
Formulate an emergency control policy;
Monitor the proper implementation of the above rules by your staff;
Provide validated substance information.
For example, by way of the NFU (Netherlands Federation of University Medical Centres) dangerous substances database.
High-risk group: younger than 18 years
Young people under the age of 18 who work with dangerous substances have an increased risk of adverse health effects. Therefore, it is forbidden for young people up to the age of 18 to work with:
Substances from the following categories: toxic to very toxic, sensitising, carcinogenic, mutagenic and reprotoxic;
Substances which may be subject to cumulative effects (identifiable by R phrase 33 or H phrase 373);
Substances which, in the event of prolonged exposure, are harmful to health (R phrase 48 or H phrase 372);
Biological agents of classes 3 and 4. More information about the classes can be found in section 9.5 'Biological agents';
Tubs, tanks, pipes or reservoirs containing one or more of the substances or gases referred to above.
Young people under the age of 18 are only allowed to work with the following substances under expert supervision:
Substances from the following categories: explosive, corrosive or irritant;
Compressed gases, pressure-liquefied gases, gases liquefied by cooling and dissolved gases;
Substances for which the possibility of carcinogenic effects cannot be ruled out (R40 or H351);
Substances for which the possibility of irreversible effects cannot be ruled out (R68 or H341);
Tubs, tanks, pipes or reservoirs containing one or more of the substances or gases referred to above.
Please note:
Children under the age of 16 should never work with dangerous substances.
High-risk group: wish to have children, pregnant and breast-feeding
Discuss the risks of working with dangerous substances at an early stage with staff who wish to have children, who are pregnant or who are breast-feeding. You can also refer them to the company doctor. As the (unborn) child is particularly sensitive to some of these substances, additional measures apply to the aforementioned groups of staff:
They should not be exposed to substances which may harm their health or the health of the child, such as carcinogenic, mutagenic and reprotoxic substances. The Ministry of Social Affairs and Employment (abbreviated to SZW in Dutch) has published a list of carcinogenic, mutagenic and reprotoxic substances;
You must take appropriate measures for working with substances that are harmful to pregnancy;
They must not work with lead and lead-containing substances;
They must not work with Toxoplasma and Rubella virus;
With regard to ionising radiation from radioactive substances, you must adapt the work for category A workers in such a way that any duties with a chance of a higher dose are avoided.
For the SZW list, see the section on this website: What does the government do.
Occupational health examination
In the following situations, it is advisable to have your staff undergo an occupational health examination through your OHS advisor:
When an employee starts working with dangerous substances for the first time. If the risk assessment has shown that there is a risk of exposure to substances harmful to health for which the OHS advisor recommends an occupational health examination;
When, as a result of working with dangerous substances, a disorder has been diagnosed in a colleague who does the same work.
Registrations
In order to be able to trace long-term health effects back to the work situation, it is mandatory to register the following information:
The data from an occupational health examination is recorded in the personal medical file. These files are not accessible to third parties. Records are kept for each employee for a period of 40 years after the end of their exposure to dangerous substances.
The OHS service lists all occupational diseases which, according to the company doctor, may be the result of exposure to dangerous substances.
Incidents, accidents and emergencies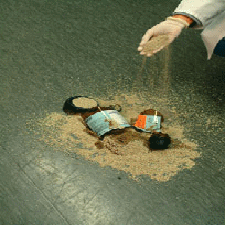 To err is human. Appropriate precautions allow you as a manager to arm yourself against the consequences of incidents, accidents and emergencies in your department.
Provisions that must always be in place
Sufficient absorbents in places where hazardous liquids are stored;
Neutralising agents when working with strong acids and strong bases;
The appropriate extinguishing agents;
Suitable personal protective equipment (PPE): gloves, protective clothing, safety goggles or face mask, half-face mask or full-face mask with filter canister;
An emergency shower and an eye shower;
A first-aid box or a first-aid post with treatment and dressing materials;
Specific emergency sets in places where cytostatics are present;
Specific kits in places where cyanide compounds and hydrogen fluoride are used.
Act according to the company emergency response plan
How those involved should act if something does go wrong is set out in the company emergency response plan. This may involve a central plan and/or plans at departmental level. Important general issues that are included are:
The manner in which the company emergency response has been documented;
Tasks and responsibilities of staff and (company) emergency response officers;
An overview of the available resources, including their locations;
Information on how safety devices, means of repression and warning devices are regularly maintained and monitored.
Specifically for dangerous substances, the emergency plans may contain items such as:
A list of the storage locations;
Safeguarding gas cylinders;
Turning off complex, high-risk equipment;
Shutting off the gas pipe.
Safeguarding valuable patient or research materials.
What events should you report and record?
Which events you should report and record depends on the arrangements made with the competent authority, for example the Health and Safety Inspectorate or the environmental agency. At your UMC, coordinate how the internal notifications and registrations and the notifications to the competent authority are to be carried out. Agree which expert will carry out the investigation into a particular type of accident.
Internal reporting
Report and record the following events internally only:
Accidents with minor injuries and potential absence;
Incidents involving exposure to substances and near misses;
Needle stick and cut injuries with exposure to patient material or to carcinogens (always report immediately).
Internal and external reporting
Always report the following events immediately internally and externally:
Fatal accidents or accidents with serious physical or mental injury (i.e. hospitalisation) or permanent injury;
Events where category 3 or 4 biological agents may have been released;
Accidents with (and release of) GMOs outside the compartmentalised areas;
Any accident involving exposure to ionising radiation from radioactive substances. The effective dose received by the employee must be stated in such cases;
Emergencies due to discharge must be reported to the competent authority through the specified internal procedures and the regulations in the Environmental Management Act permit or the Environmental Law (General Provisions) Act permit.
Reporting accidents involving dangerous substances allows an expert to launch an investigation. Based on the investigation, you will be advised of measures to prevent recurrence. Be prepared for external attention. Having the press informed by a communication department is better than sending a message via the multimedia channels.