Pagina-inhoud
In addition to the hazard pictogram, the labels of the dangerous substances also contain H and P phrases.
The H phrases are hazard statements (H of hazard);
The P phrases indicate precautions (P of precaution / safety recommendation ).
The H phrases replace the R phrases and are mandatory on the labelling of a pure substance from 1 December 2010. For a mixture, the obligation applies from 1 June 2015. This page contains a general description of the H phrases according to the GHS.
H200 phrases Physical hazards
H300 phrases Health hazards
H400 phrases Environmental hazards
EUH phrases
The H200 series of phrases contain warnings that relate to the material, physical hazards of a substance. The H phrases are divided into groups. For example, H phrase 220 through to H phrase 228 refer to a flammable substance.
H20x Explosion hazard
H22x Flammable
H24x Self-reactive, heating may cause an explosion
H25x Self-heating, pyrophoric substances
H26x Substances that can develop gases (including flammable gases) with water
H27x Oxidising substances
H28x Gases
H29x Corrosive to metals
Some examples of H phrases:
H224 Extremely flammable liquids and vapours
H280 Contains gas under pressure; may explode if heated
The H300 series of phrases contain warnings about the health hazards of a substance. For example, H phrase 310 through to H phrase 312 refer to skin contact.
H30x Oral toxicity
H31x Dermal toxicity
H33x Inhalation toxicity
H34x Mutagenic
H35x Carcinogen
H36x Teratogenic
H37x Causes damage to (target) organs
Some examples of H phrases:
H300 Fatal if swallowed
H318 Causes serious eye damage
H350 May cause cancer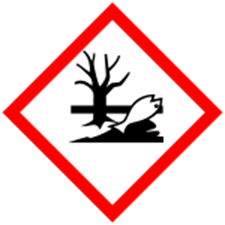 The H400 series of phrases contain warnings about the environmental hazards of a substance.
H40x Acute aquatic hazard
H41x Long-term aquatic hazard
H42x Hazardous to the ozone layer
Some examples of H phrases:
H411 Toxic to aquatic life with long lasting effects
H420 Harmful to human health and the environment by ozone depletion in the upper atmosphere.
The EU GHS or CLP also includes EUH phrases. These are H phrases replacing the old R phrases which are not included in the global GHS. They have the same number as the old R phrase. These EUH phrases are also divided into material properties, health properties and additional information about certain substances or mixtures.
Some examples of EUH phrases:
EUH014 Reacts violently with water
EUH029 Contact with water liberates toxic gas
EUH201 Contains lead. Must not be used for items…..